Wildlife is an amalgam of storytelling, exploration, science, conservationism and innovation, all in a box of chocolates called life. National Geographic awards explorers every year with $10000 for research. Wildnest brings you some emerging wildlife explorers who continue to inspire us in 2016.
Jessica Cramp, Marine Conservationist, Pacific Ocean
Image Source: National Geographic
Jessica Cramp, a young American who leaves all to protect sharks is quite fascinating as the "American Horror Story."Jessica used to make her living, working at a pharmaceutical lab in Pennsylvania. She took a sailing trip through Polynesia (the term was first used by the French writer Charles De Brosses) and headed for the Cook Islands which changed everything. She helped set up the world's largest shark sanctuary there.
She had her first experience with sharks when she was paddling a surfboards from Pitcairn islands (Southern Pacific Ocean.)When she was paddling her friend had remarked " Jess! Turn Around!" She looked around and there were five sharks close to her. She says that strangely she was not scared and remembers those yellow eyeballs.
Her passion for the ocean lingered on having done a few ocean -related projects. She came back to Cook Islands looking for some work and that is how she found Pacific Island Conservative Initiative.She found some work at Pacific Island Conservative Initiative. She started a project with the founder of PICI, Steve Lyon and helped built the sanctuary. To leave a job in the pharmaceuticals and do something for sharks, she certainly is one hell of a wildlife explorer in the marine environment! Sharks have become endangered species in some locations of the world and Jessica certainly inspires us. She is currently working on her PHD on the effectiveness of shark sanctuaries and marine reserves.
"Sharks are extremely charismatic and sexy, which means you can get people's attention. I call sharks the gateway drug to ocean science.—Jessica Cramp
Innocent Mburanumwe, Conservation Ranger, Congo
Image Source: National Geographic
Congo stirs up the name of Michael Crichton's novel to my mind. But here is an inspiring story of Innocent Mburanumbe which could linger on in the history of the world, like the story in the book.
Virunga National Park located in the Democratic Republic of Congo is referred to as the jewel in the crown . You can find the last of the world's mountain gorillas here. But, they are threatened by poachers and could be one of the world's endangered species. Innocent Mburanumbe is fighting the poachers head on to protect these rare creatures. What the poachers do is that they sell the gorillas to rich people for money. They don't know that baby gorillas don't survive when they are taken away from their natural habitat.Close to 140 rangers have already lost their lives to fight the menace.
Mburanumbe learnt about the gorillas from his father who told him that gorillas were their cousins. In his tour of the habitat, he communicates with the gorillas to see if they are safe. Mburanumbe stays at Rumangabo, next to the Virunga National Park.
In 2007, a family of gorillas was massacred. He fights to prevent any such incident.He has a favorite Gorilla which he calls "baldy". He says the health of the gorillas inspires him. He may not be a wildlife explorer in the full sense of the term, but he is certainly a conserver.
"I don't want to lose one single gorilla, because they are the last in the world."—Innocent Mburanumwe
Onkuri Majumdar, Wildlife Conservationist, India
Image Source: National Geographic
South-east Asia is rich in elephants, rhinos which have both natural and commercial value. Onkuri is currently working with "Freeland India", an organization which focuses on the trade, sting operations, arrests, legal trainings and educational campaigns on trafficking.She has devoted her life to stop the trafficking of animals in Southeast Asia.
She compares trafficking to a suction hose which unbalance and pulverizes the whole eco-system. These predators remove animals from all levels, big cats to small ones like pangolins. She too is a crusader to protect animals which could soon become endangered species.
The organization has also started a toll free number which the enforcement officials could call to ask legal questions on wildlife. Yes! She is both a wildlife explorer and a wildlife conservationist.
"Wildlife crime is a terrible thing for society, and it's high time all governments started to make it a big priority."- Onkuri Majumdar
Ella Al-Shamahi, Paleoanthropologist, Yemen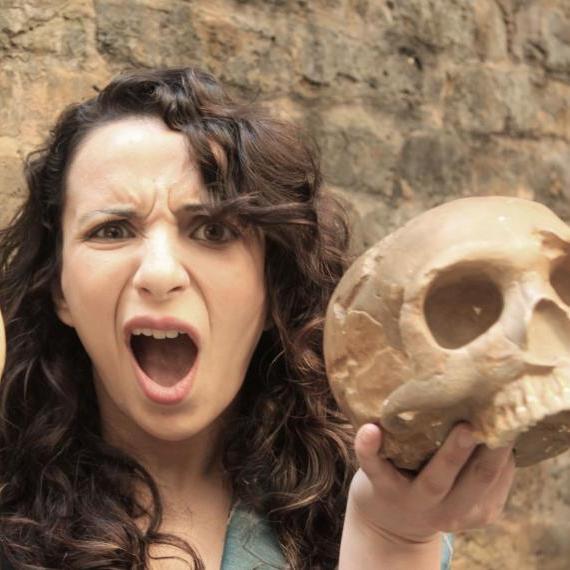 Image Source: Google Images
Anthropologist, dig out past lives to improve the present and the future. The past has keys to the future, this is what Ella tries to say.
Ella uses science and humor to change the middle-east narrative on history. She has a knack for communicating science through stand-up comedy. She adds it helps her cope with the darker side of her work.
Her offices are generally disputed or unstable territories. Through stand-up comedy, she has created an original way to communicate to the audience.
She explains the audience why Neanderthals are important, which take her to caves and disaster areas. Her specializations include Paleolithic cave excavations. Her team is currently trying to identify areas which are younger than two million years and older than 10,000 years.
She is also developing a theory which she calls "Did we do a Moses?"
Ella continues to inspire us with her stand-up comedy and excavations! These are some explorers to watch out for in the coming year! Note that all explorers are in a way wildlife conservationist!